If you are considering LASIK surgery, you will want to find the best hospital for the procedure. LASIK is a common and safe surgical procedure that can improve your vision. But it is important to choose a qualified surgeon and facility. In this blog post, we will discuss the 10 best LASIK hospitals in India. These hospitals have proven track records of success. And offers state-of-the-art technology and procedures.
Top 10 Lasik Hospitals In India
Lasik is a type of refractive surgery that is used to improve vision. It is a permanent solution for those who are suffering from myopia, hyperopia, or astigmatism. Lasik surgery involves the use of a laser to correct these refractive errors. Many people consider Lasik to be a safe and effective way to improve their vision.
There are many Lasik hospitals in India that offer high-quality services. Furthermore, here is a list of the top 10 Lasik hospitals in India:
EyeMantra Hospital
It's a leading eye hospital in India that offers world-class treatments and surgeries using the latest technology. The team of surgeons is experienced and highly skilled. EyeMantra is dedicated to providing the best possible care for its patients. They use the latest technology and equipment to provide the best possible outcomes for their patients.
The center is based in Paschim Vihar, New Delhi. And is headed by Dr. Shweta Jain. The hospital has a team of highly skilled surgeons with experience in different types of surgeries. They offer a wide range of services such as LASIK surgery, cataract surgery, corneal transplantation, glaucoma surgery, and retinal detachment surgery.
Dr. R.P.Centre For Ophthalmic Sciences A.I.I.M.SS
Dr. Rajendra Prasad center for ophthalmic sciences is established by the first president and named after him for the honor. It was established on March 10, 1967, as a national eye center to provide relief and care to the people around India. The hospital has a team of expert doctors who offer world-class treatment to their patients. The hospital is equipped with state-of-the-art facilities. And uses the latest technology to provide the best possible care to its patients.
Thus, many people have benefited from the hospital's world-class treatments and have had their vision restored. The hospital has a strong commitment to providing the best possible care for its patients.
L.V.Prasad Eye Hospital
L.V Prasad is one of the renowned eye comprehensive care centers. It is jointly founded by Dr. Gullapalli N Rao and Ramesh Prasad, son of L.V. Prasad in 1987. And the main campus of the hospital is situated in Hyderabad. It is considered one of the leading eye care hospitals in India with over years of experience in the field of ophthalmology.
The hospital has a team of highly skilled and experienced ophthalmologists who offer a wide range of treatments for various eye conditions. The hospital is equipped with the latest technology and offers a comprehensive range of services for its patients.
Sankar Netralaya
Sankar Netralaya is one of the best LASIK hospitals in India which is primarily located in Chennai. In "Sankara Nethralaya" Sankara refers to Shiva whereas the word Nethralaya denotes "The Temple of the Eye".
It is a widely famous care center that provides comprehensive eye care services. There are many benefits of getting your LASIK surgery done at Sankar Netralaya. The surgeon at this hospital is experienced and has performed many successful surgeries. And the best part is the cost of the surgery is also very reasonable.
Aravind Eye Hospital
This is a leading eye care chain in India with years of experience. The hospital was founded by Dr. Govindappa Venkataswamy in the year 1976. And since then, it is grown into a network of various eye hospitals that have generally seen nearly 32 million patients in 36 years. The majority of those surgeries are free or somehow cheap. But the care and results are far-reaching and impressive.
The hospital offers a comprehensive range of treatments and surgeries for various eye conditions, including LASIK. And the reason for being so famous for this hospital could be the use of cutting-edge technology and the expertise of some of the best surgeons in the country.
Gurunanak Eye Center
This is one of the best eye care hospitals in Delhi. The hospital has a team of well-experienced and qualified ophthalmologists who use the latest technology to provide the best treatment to their patients. It is one of the premium Ophthalmic institutes in the capital of India with a wide range of services with a high success rate.
Also, here Lasik surgery is considered to be quite affordable and can be availed at insurance coverage. Therefore, it can be of great help to you so do not hesitate to consult with the Lasik doctors at this hospital.
Maharaja Agrasen Hospital
Maharaja Agrasen Hospital is a tertiary care hospital located in New Delhi. The hospital has a team of experienced ophthalmologists who offer various treatments including LASIK surgery.
Maharaja Agrasen Hospital is accredited by the National Accreditation Board for Hospitals & Healthcare Providers (NABH). It is also a member of the International Society of Refractive Surgery (ISRS). If you are looking for a safe and reliable hospital for LASIK surgery, Maharaja Agrasen Hospital is a good option.
Asian Eye Institute & Laser Centre
Many people dream of getting laser vision correction surgery done but are worried about the cost and the quality of care. But, India has some of the best hospitals for LASIK in the world, with experienced surgeons and state-of-the-art facilities. It is believed that the cost of LASIK in India is about one-tenth of what it would be in the US.
Fortis Memorial Research Institute
The location of Fortis memorial research institute is in the prime city of Gurugram, Delhi-NCR. The establishment year of this hospital is 1996. FMRI- Gurugram is one of the top 10 LASIK hospitals in India.
This eye hospital has the most qualified and best eye surgeons. The doctors of this hospital ensure treatment with utmost accuracy. The hospital provides many facilities to the patients such as a blood bank, 24×7 pharmacies, ambulances, emergency treatments, and so on. Fortis memorial research institute is famous for providing the best healthcare services in an ethical and compassionate manner.
Apollo Hospitals
Apollo hospital was established in 1983 at Greams road in Chennai. This hospital is a Multispeciality hospital that has major specialties like Ophthalmology, Heart, Cancer, Bones, etc. It has the award of the " Best Private Sector Hospital in India" by the Week Magazine. Apollo hospital in Chennai has the best facilities and equipment for patients who need eye care. Their experienced doctors treat LASIK carefully and effectively.
Overall, these are the top 10 LASIK hospitals in India that you can consider for your vision correction surgery. Therefore, with the help of the latest technology and experienced surgeons, you can be sure to get the best possible treatment in these hospitals.
How Can I Choose The Right Lasik Hospital?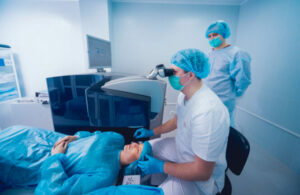 It is quite a difficult task to find the best LASIK hospital. As there are many things that you need to consider. Here are some tips that can help you make the right choice:
Make sure that the hospital is accredited by a recognized body.
Check if the hospital has experienced surgeons who have performed a large number of LASIK procedures.
Ask about the success rate of the hospital.
Find out about the post-operative care that is provided by the hospital.
Ask for referrals from people who have undergone LASIK surgery at the hospital.
Once you have considered all these factors, you will be able to narrow down your search and choose the best LASIK hospital in India. Also, there are a few factors that might impact your decision, such as the cost of the surgery and the location of the hospital.
In a nutshell, all you should care about is finding a hospital that can provide you with the best possible care and treatment.
Conclusion
In a nutshell, the top 10 LASIK hospitals in India can be a great starting point in your search for the best place to have the procedure done. You can't go wrong with any of these choices. Do your research and pick the one that you feel most comfortable with. Hence, the most important thing is to find a good surgeon that you trust. Once you do that, the rest will fall into place.
For more information, please contact Eye Mantra. We would be happy to schedule a consultation for you. EyeMantra offers the most advanced eye surgery options including PRK, Femto Lasik, SMILE surgery, Standard lasik, and Contoura vision. If you have any questions on lasik surgery, lasik surgery cost and lasik procedure, call us at +91-9711116605 or email at [email protected]. Please visit the Best Eye Hospital in Paschim Vihar, Eye Hospital in Rohini.